Wine Notes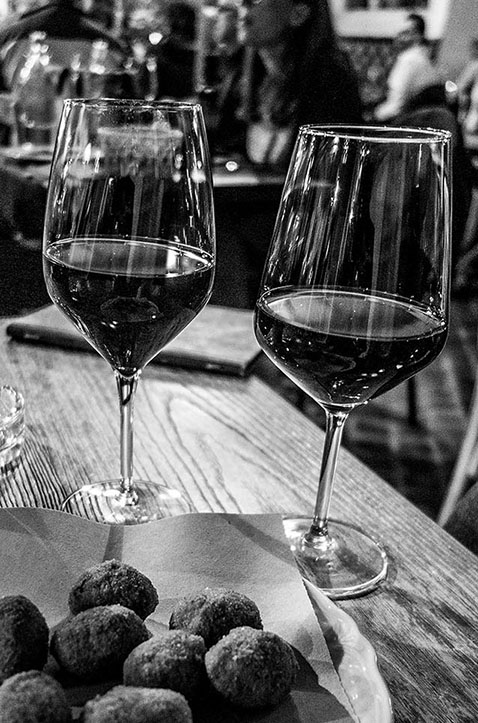 At Trefethen we tasted wine
at a long live edged table
light balancing off wine barrels
that surrounded us.
The notes in front of us spoke
of "bright, pineapple, peach, lingering
aromas of cut apple, gardenia,
tarragon, spicy on the palette"
another wine, "an elegant nose
of violets, plums, cherries, hints
of forest floor and oak."
A wine named Dragons Tooth
"shined with the fragrant aromas
of boysenberry, baking spice"
then "nutmeg, oak that segued
into a long chocolate finish."
We swirled the wine in our glasses
as we read the notes
admired the color, the light
and took tastes.
I was curious about their Cabernet
with a "balanced tannin
as a backbone" The Reserve was said
to" dance on the palate."
I like that wine notes are often poetry.
At the Trefethen Winery yesterday,
the poetry written seem to have truth
in it as we tasted each wine.
Perhaps because our day started
with a tour of the vineyard
Time in front of a vine. Its barked thin
trunk holding up a large fan
of green leaves. Leaves
extending horizonally,
above its trunk. A line of "berries"
at the bottom, not yet
grapes.
Trained there to be below
so they can be easily picked.
Perhaps because we learned of the history
of closely watched vines, the coddling of them
to produce in particular ways.
Some leaves developed to create shade,
others to bring in the sun.
Perhaps it is learning how much goes
into growing grapes
knowing that is just the beginning
of the process.
Perhaps it was the fellow
who gave us the tour
who knew the story, the history, who sounded
like Jimmy Stewart when he spoke.
Perhaps it was his comfortable knowledge
that lead us into the old wooden room
to read the notes and taste.
Perhaps it was company
of friends at the table
Perhaps all of it made it easy
to taste the poetry.
Perhaps the wine was just good.
Published
by www Juddhill.com 2014